Options

Email to a Friend

Print

Bookmark
Related Topics
Tagged As
As us pet owners are well aware, it can be a task to remove the pet hair and dander that quickly accumulate in our homes. It can be embarrassing to have company over and have them leave our homes with more "insulation" than they came in with. And though we love our dirty, hairy best friends, we haven't resigned ourselves to live in squalor so we do our best to vacuum and dust up the mess.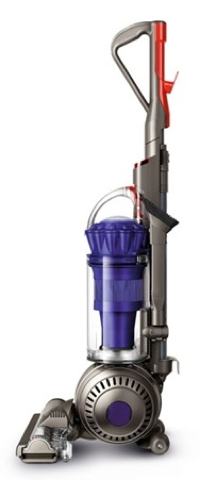 Fortunately, the Dyson DC41 Animal vacuum has been designed with our furry friends in mind, or rather the mess they leave behind. In this review we will explore several features of this vacuum that might just make cleaning after your pet a little easier.
Ease Of Use

Assembly - The Dyson DC41 vacuum came in several large pieces and required more than a few brain cells to put together. The instruction manual for putting the Dyson together was primarily pictures with very few words, which made putting it together more difficult. Figuring out where the on-board tools went was the greatest struggle, especially the spot for the basic upholstery tool. Where it fits appears to defy physics and yet, when angled just correctly it does indeed snap into place.

Hose, Stair Tool, and Attachments - The Dyson DC41 comes with a good assortment of attachments which include a stair tool, Tangle-free Turbine Tool, combination crevice-brush tool, and a basic upholstery tool. These all attach to the hose housed on the back of the vacuum. The attachments were easy to use and self-explanatory, with the exception of figuring out where they attached to the vacuum when not in use. I was disappointed there was no home for the Tangle-free Turbine Tool on the vacuum.

The hose is composed of a flexible plastic that could stretch about 11 ft. in our testing. It works well and the vacuum stays locked in a stable upright position when using it so it doesn't topple easily.
The stair tool gives you an extra reach of about 2.5 ft. for cleaning stairways and other hard to reach places. It also serves as the cord wrap when you're not using the hose. Unfortunately, this means you have to unwind the entire vacuum cord to use the hose and stair tool but this design does make the vacuum compact. Fortunately, the top rung for holding the cord twists to release the entire cord at once.

The Tangle-free Turbine Tool is most the unique attachment. It uses counter-rotating heads to prevent tangling and flexible bristles for more effective vacuuming on uneven areas. I found this was a great tool for hairy upholstery and carpeting.

The combination crevice-brush tool is a crevice tool with a brush that can be slid down to use, or slid up out of the way. This tool worked decently but I found the brush piece tended to slip down when I only wanted to use the crevice tool. I also would have preferred the crevice tool to be a little slimmer for getting into tighter cracks.

The basic upholstery tool worked as expected - perfect for cleaning more delicate fabric and upholstery.

Dust Bin - The Dyson dust bin is extremely easy to remove from its housing and then dump. A simple button on top releases the door on the bottom so the dust can go directly into the trash. In theory, this is hygienic, but I found that pet hair tended to get stuck in the bin and required removal by hand. The bin also releases dust into the air when emptied, so if you have allergies or asthma, you may want to have someone else do it for you. It may be a good idea to empty the dust bin into an outside trash bin to prevent releasing dust and allergens back into your home.

Weight & Maneuverability - The Dyson DC41 is not the lightest vacuum on the market nor the heaviest. However, its maneuverability due to the pivoting Ball™ technology makes its 17.1 lb. weight less of an issue. The vacuum head is very low to the ground and has a rubber edge, which makes it even easier to get into tight corners without unintentionally abusing the vacuum.

The position of the vacuum handle makes it semi-awkward to carry. A better positioned handle would make this vacuum's weight even more manageable. Still, as a petite woman, I didn't find its weight to be an issue.

Effectiveness

Radial Root Cyclone™ technology - Two of the most important things in a vacuum are suction and airflow. Airflow can quickly be compromised in a vacuum due to dust clogging filters and airways. In turn, suction drops and you're left with a weak vacuum. Dyson uses its unique cyclone technology (the flower-like system of tubes) to improve flow efficiency and preserve air pressure. Rather than capturing dust using bags that can reduce suction and airflow, it literally spins the dirt out the air. That in turn means greater pickup and retention of those tiny particles you want to remove, especially dust, allergens, and pet hair.

In testing, I was especially impressed with how much dirt and hair was captured in the bin after one vacuuming. It definitely had great suction.

Motorized Brush Bar - The brush/beater bar spins up to 90 times per second to remove embedded dirt and pet hair. I found it also fluffed up the carpeting nicely, giving it a noticeable freshly-vacuumed look.

Floor Adjustment Button - The Dyson DC41 vacuum head adjusts to hard flooring and carpets by creating a tighter fit between the cleaner head and the surface. This ensures optimal suction for wherever you're vacuuming. It also powers down the beater bar to preventing scratching hard flooring or damaging fine carpeting.

Health

Allergen Removal - This vacuum is design to capture and retain even small particles such as mold, pollen, and other allergens. It is also certified asthma & allergy friendly™ by the Asthma and Allergy Foundation of America (AAFA).

In personal testing, I found this vacuum traps allergens and other fine particles very effectively. With a handheld particle counter, I tested the exhaust output on the vacuum. While the ambient air contained about 280,000 particles (equal to or greater than 0.3 microns in size, per cubic foot of air), the air from the Dyson's exhaust showed 0. This is surprising since most vacuums this effective contain HEPA filters, while the Dyson does not. I would infer this is due to Dyson's Radial Root Cyclone Technology's™ ability to spin all the dust out of the air and its two filters, especially the post-motor filter that captures any remnant particles from the air before exhausting it.

Noise Level - The Dyson's noise level is comparable to most modern vacuums, measuring at 71 decibels on carpeting and 80 decibels on hard flooring (measured at five feet above the vacuum). There is no high-pitched noise or anything noticeably irritating about the sound the vacuum makes (although my cats might disagree).

Value

The Dyson DC41 retails for $599 which is pricey. However, it does come with a five-year warranty and its bagless design and washable filters mean low-maintenance costs.

Overall

The Dyson DC41 is the perfect vacuum for pet owners, allergy-sufferers, and anyone else wanting to invest in a no-nonsense vacuum. It has all the essential features for easy and quick vacuuming. It shows signs of being durable and Dyson's track record suggests its suction ability should last for a long time to come.
(Note: The views expressed in this blog post are those of the author, and do not necessarily represent those of The Housekeeping Channel, LLC.)
Cleaning Up After Our Furry Friends - Dyson DC41 Review: Created on June 20th, 2013. Last Modified on June 23rd, 2013