Options

Email to a Friend

Print

Bookmark
Related Topics
Tagged As
Start talking small living spaces and it often becomes a contest among those in the discussion. They may soon try to out-do one another over who has the smallest kitchen, closet or apartment. In the end, it's sometimes hard to win with the struggle over small spaces.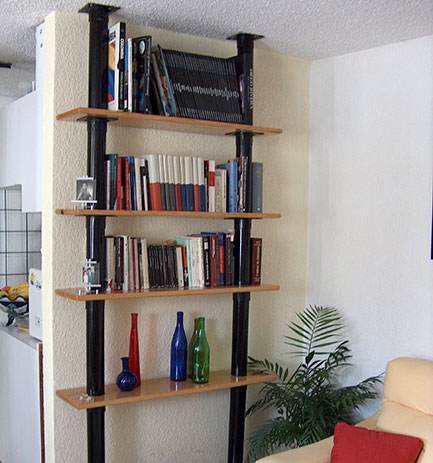 There are four key organizing rules to consider if you are working with a tiny house, an older home without closets, a city apartment or even downsizing from big to small. Each of these "rules" can help you make the most of your space.
Go vertical. Consider how to use height in every situation. Add shelves in the tops of closets for storage. Add shelves across door jams so that they do double duty in rooms. They can hold decorative but useful items from pottery to baskets to books. Choose very tall dressers over wider chests of drawers. Pick tall bookcases. Don't stop at five feet. Get a library ladder. Use the tops of kitchen cabinets, hiding seldom used things in decorative baskets so no one sees any clutter.
Look for hidden storage. Make use of the backs of closet doors and room doors. There are all kinds of organizing products to adapt to the back of a door. Use the inside of a closet wall for hooks, even if only six to eight inches of width are available. That space works for belts, scarves, caps and more. Use a skirted tablecloth to create hidden storage. Back your sofa up to a wall of bookshelves. Use the hidden area, behind the sofa, to hold things that aren't that attractive, such as board games or yearbooks. If your sofa is on sliders, you'll have easy access.
Choose furniture with storage. Choose nightstands with drawers instead of just tables. Pick a trunk for your coffee table and use it to hold bedding for the sofa bed or extra blankets. Instead of a foyer table or bench, repurpose an attractive dresser in the foyer to hold table linens, serving trays and more. Need an end table in a living room? Choose one that has drawers or wicker baskets tucked in it. Every time you pick a piece, new or old, make sure it is useful for keeping something inside of it.
Declutter. The more things you own, the more things you have to find a home for. Ask yourself if you love it, use it or need it. If it doesn't fit one of those categories, let it go. The more you let go of, the more room you'll feel you have.
Organizing Solutions for Small Spaces: Created on June 9th, 2012. Last Modified on January 21st, 2014