Options

Email to a Friend

Print

Bookmark
Related Topics
Tagged As
Kitchens can make you crazy when cluttered. From not having any counter surface to not being able to find what you need, disorganization is no fun. Here are eight key tips to help you get your kitchen under control.
1. Make better use of lower cabinets or pantry space. Use baskets or pull-out installed drawers so that you can find things in the lower cabinet.

2. Use labels. Labeling the edges of pantry shelves, containers and baskets means everyone can put things back in the right spot.

3.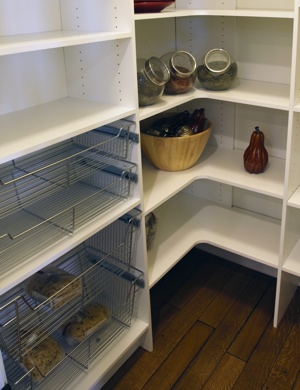 Don't overstock with more food than you can use. If your pantry is organized, you can find what you need and check supplies before shopping. The more on hand, the more you have to dig through and fool with, and the more money you waste on expired goods.

4. Clear the counters. Take everything off. Give it a good cleaning. Put back ONLY what you use daily. Store the rest in cabinets.

5. Weed out extras so you have storage room. Do you really intend to serve 40 cups of coffee or anticipate a need for 4 spatulas at one time?

6. Make a home for countertop paperwork. If you have piles, grab an attractive container. Put folders in it labeled "mail, to file, to do" and so forth. Put the papers in the basket instead of having piles all over the place.

7. Practice the "next-to" rule. Put each item next to something used with it such as coffee next to coffee cups and filters or measuring spoons next to measuring cups.

8. Eliminate appliances that only do one thing. Do you really need a "hotdog cooker" when you own a microwave, saucepan, griddle and barbecue grill? Ask yourself, "If I didn't have THIS, what would I use instead?"
Eight Key Tips for your Kitchen Clutter: Created on June 6th, 2013. Last Modified on April 7th, 2014