Options

Email to a Friend

Print

Bookmark
Related Topics
Tagged As
Finding safety and security in an often-turbulent world is not easy to do. For many homeowners, their place of solace and comfort is their home. It's the one place they can control and feel at ease in. They increase their comfort by filling it with personal décor and furnishings. Locks and security alarms are installed to help them feel safe and protected. Yet, all that peace and security can be dashed by the power of wind, waves, or water; fire too. [Note: Ad or content links featured on this page are not necessarily affiliated with IICRC (The cleantrust) and should not be considered a recommendation or endorsement by IICRC (The cleantrust)].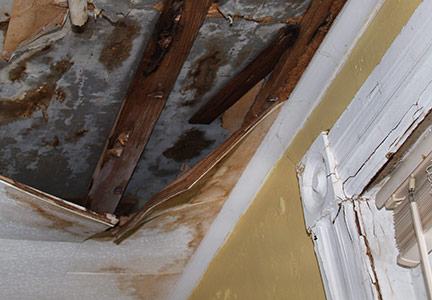 Many are forced to get out, and get out quick; to run to the hills when extreme weather is upon them, only to return to homes that have possible structural damage and may require extensive interior cleanup. How can homeowners undo the mess and ensure their home is safe, clean, and livable once again? The IICRC has some helpful suggestions.

Inspections

Some people have mixed feelings about inspections. Is the inspector simply looking for something...anything, to jack up the price of repairs, taking advantage of an already unhappy situation? Or maybe even worse, are they under-qualified and likely to miss hidden dangers under the surface? How can a homeowner know they are getting their home properly diagnosed?
If there is extensive damage from foundation to roof-top, a good idea would be to get the services of a Master Restoration Technician to assess the damage and work with the insurance company. However, if the problem pertains to carpet and flooring - ceramic tile, wood, laminate, vinyl, marble, stone, and sub-flooring - an IICRC-certified inspector can help.
IICRC-certified inspectors can assess floor damage, water damage, mold damage, or fire and smoke damage, and depending on which area(s) the inspector is certified in, can offer an expert opinion on what the damage is and what will be the best and most practical way to repair it.
Cleaning

Cleanup is difficult after any disaster. Why? If flooding occurred, moisture can remain trapped in structural cavities, possibly causing several problems. Wood rot may occur and weaken the structural integrity of walls and flooring. Excessive moisture can cause mold, which may cause or aggravate respiratory illnesses.
And the heat, soot, and odor from a fire can cause damage that is hard to undo.
IICRC-certified cleaning and restoration technicians are trained to deal with those very issues - excessive moisture removal, mold remediation, and fire, smoke damage. They can clean and often restore carpet, and upholstered and leather furniture.
However, if you don't suffer from fire, water, or mold damage, and all you want is a professional and thorough house cleaning, IICRC can help you find someone that can do it right.
Restoration

A home is not just bricks, mortar, and two-by-fours. It is also filled with carpets, hard flooring, furniture, and other valuable possessions. Knowing what carpets, flooring and furniture is or is not salvageable and restorable can also be a challenge.
In many cases, having expertise in just one area won't cut it anymore. Many homes are built with a wide variety of products and materials, and furnishings often include leather and special upholstered coverings. Many of these products and materials require a broad range of knowledge. Again, IICRC-certified restoration experts are trained to restore the many modern surfaces and furniture found in most homes.
Finding the Best

In many ways, a home is a long-term investment. Investment in what? A "comfort zone," a place of security and a safe place to raise a family.
When a child gets hurt, a wise parent probably wouldn't take their child to a doctor that has little experience or never finished medical school. So why put a "sick" home in the hands of an under-qualified and under-trained technician? Get the best.
How do you know who is IICRC-certified in your area? By going to the IICRC website and locating a certified professional. Or, look for a company that displays the cleantrust logo.
Extreme Weather and Disaster Relief: Created on December 4th, 2012. Last Modified on January 21st, 2014